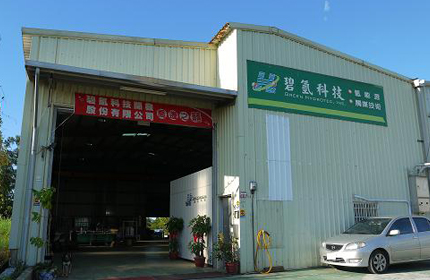 Green hydrotec in motion
Established in May of 2000 as a university laboratory extension program for the development of composite palladium membrane for use in the in situ purification of hydrogen in a membrane reformer of methanol to high purity hydrogen, Green Hydrotec Inc (GHT) has since grown into a well known center and hub of hydrogen technology and the supplier of the compact on-site hydrogen generator in Taiwan and in E. Asia as well.
In the last 10 years, GHT has developed three basic core technologies in the catalytic heating, the membrane purification of hydrogen and fabrication of compact hydrogen generator from methanol or natural gas. As of May 2011, 19 patents have been granted in the above related core technology.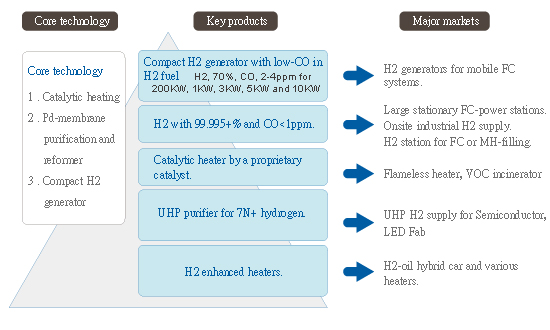 Key technology and market developments
Central to the GHT core technology and product development is the onsite production of hydrogen and the related technology, namely, compact in size, simple and safe in operation and high efficiency to save cost. Initially, catalytic heating and membrane reactor were emphasized with 3-in-1 hydrogen generator equipped with in situ catalytic heater and palladium membrane tubes in the reformer to yield 99.995% hydrogen directly from methanol and water. Lately, high thermal conductive material for the reactor to ensure highly efficient heat transfer to achieve low CO-content and high thermal efficiency of the generator and compactness.

1,Knowledge as the foundation of its green technology and products, GHT strives for innovation in catalysis and material engineering.
2,GHT is to grow from new products development for market, employee's pride and confidence, and shareholders support and satisfaction.
3,GHT pledges with sincerity to make its earning from the products safety and customer satisfaction.
ADD:No.219, Ln. 435, Le'an St., Guishan Dist., Taoyuan City 333, Taiwan (R.O.C.)
TEL:886-3-3972720 FAX:886-3-3973441 Stock service TEL:886-3-3972730 E-mail:fcdd@grnhydrotec.com
© 2010 Green Hydrotec,inc All Rights Reserved.